Dr. Frank Scafuri, III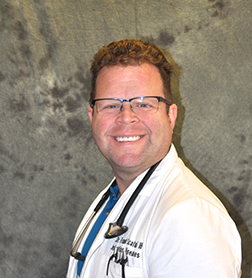 Internal Medicine & Infectious Diseases
Dr. Frank Scafuri moved to Staten Island with his parents when he was only five (5) years old. He attended St. Rita School on Bradley Avenue from first to eighth grade. In 1987, at only fifteen (15) years old, Dr. Scafuri began working at St. Vincentís Catholic Medical Center (now known as Richmond University Medical Center ďRUMCĒ) in the microbiology lab for Dr. Rudolph Howard. In 1990, he graduated Monsignor Farrell High School and thereafter he continued his education a St. Peterís College in Jersey City majoring in pre-med.
After graduating St. Peterís in 1994, Dr. Scafuri attended medical school at the New York College of Osteopathic Medicine graduating in 1999. In 2000, he completed his internship at Lutheran Medical Center in Brooklyn. In 2001, Dr. Scafuri returned to St. Vincentís on Staten Island to complete his last two years of residency. Finally, in 2004, he completed his fellowship in Infectious Diseases at New York Medical College at St. Vincentís Medical Center of New York in Jamaica, New York. When Dr. Scafuriís fellowship was completed, he returned to St. Vincentís again and opened his private practice on Staten Island.
Dr. Scafuri is currently the Chief of Infectious Diseases at RUMC. In addition, Dr. Scafuri is Chairman of the Infection Control Committee and the Pharmacy and Therapeutics Committee. He is also a member of RUMCís Credentials Committee and the secretary/treasurer of the Medical Executive Committee.
Dr. Scafuri currently has a solo practice in Staten Island with three offices; one at 682 Forest Avenue, the second at 3453 Richmond Avenue, and the third at 4143 Richmond Avenue. These offices run six to seven days a week.
Dr. Scafuri is on the Board of Directors for the Forest Avenue Business Improvement District, President of Medical Staff at Richmond University Hospital, as well as being an Honorary Police Surgeon for Infectious Diseases for the New York City Police Department.
Dr. Scafuri is married for fifteen years to his high school sweetheart, Mary, and together they have four children, Frank, Domenick, Marianna, and Angelina, two dogs, Oreo and Jarvis, together with a rabbit Kissie.