Dr. Frank Scafuri, III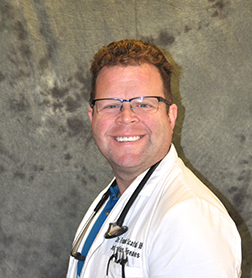 Internal Medicine & Infectious Diseases
Dr. Frank Scafuri moved to Staten Island with his parents when he was only five (5) years old. He attended St. Rita School on Bradley Avenue from first to eighth grade. In 1987, at only fifteen (15) years old, Dr. Scafuri began working at St. Vincentís Catholic Medical Center (now know as Richmond University Medical Center ďRUMCĒ) in the microbiology lab for Dr. Rudolph Howard. In 1990, he graduated Monsignor Farrell High School and thereafter he continued his education a St. Peterís College in Jersey City majoring in pre-med.
After graduating St. Peters in 1994, Dr. Scafuri attended medical school at the New York College of Osteopathic Medicine graduating in 1999. In 2000, he completed his internship at Lutheran Medical Center in Brooklyn. In 2001, Dr. Scafuri returned to St. Vincentís on Staten Island to complete his last two years of residency. Finally, in 2004, he completed his fellowship in Infectious Diseases at New York Medical College at St. Vincentís Medical Center of New York in Jamaica, New York. When Dr. Scafuriís fellowship was completed, he returned to St. Vincentís again and opened his private practice on Staten Island.
Dr. Scafuri has a solo practice in Staten Island on Victory Boulevard and Richmond Avenue. In addition, Dr. Scafuri is an Honorary Police Surgeon for Infectious Diseases for the New York City Police Department a Community Preceptor of Residents at Staten Island University Hospital and the Medical Director for the Physician Assistant Program at Wagner College.
Dr. Scafuri is married for over twenty years to his high school sweetheart, Mary, and together they have four children. His eldest son, Frank, is a senior at The Catholic University of America majoring in Computer Science. His intention is to continue on to law school. Their second child, Domenick, is a junior at The Catholic University of America majoring in Architecture. Their third child, Marianna, is a freshman at The College of New Jersey majoring in Secondary Education with a focus on Engineering. Lastly, their youngest, Angelina, is a sophomore at St. Joseph Hill Academy. He also has three dogs, Frosty, Smores, and Twix together with Marshmallow, the bunny.