Dr. Azza Elemam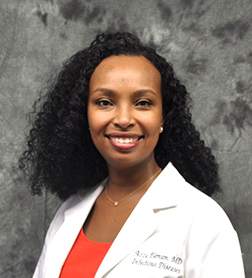 Internal Medicine & Infectious Diseases
Dr. Elemam is a board certified internist and infectious diseases specialist. She grew up in northern Virginia and completed her undergraduate and medical school education at The George Washington University in Washington D.C. Lured north by the Big Apple she then moved to New York to complete her residency and fellowship training at The St. Vincent's Medical Center Manhattan and has been here ever since. She currently sees patient's in the office as well as performing consultations at Richmond University Medical Center.
Residency training in internal medicine prepared Dr. Elemam to provide primary care to adults with complex medical problems. She then also went on to complete further fellowship training in infectious diseases. This allows Dr. Elemam to care for patient's with abroad range of problems ranging from common illness such as respiratory infections, hypertension, heart disease and diabetes to less common infectious issues like serious skin and soft tissue infections, wound infections, MRSA, pneumonia, urinary tract infection. She can also offer advice to keep you healthy with pre-travel counseling and vaccinations .
Whether they are referred for an unusual infection or just following up for routine primary care Dr. Elemam believes in giving her patient's all the information they need to understand their medical conditions and feel in control of their health.