Dr. Madhvi Rana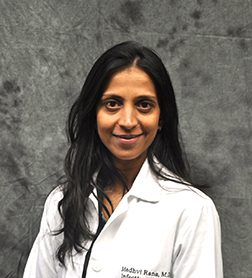 Internal Medicine & Infectious Diseases
Dr. Madhvi Rana is a Board Certified Infectious Disease specialist triple boarded in Internal Medicine, Pediatrics, and Infectious Disease. She is committed to a standard of excellence and leadership in patient care, education, and treatment of infectious diseases.
Understanding the importance of preventative medicine, she is a strong advocate of vaccines. Whether it is the pneumonia or shingles vaccines, HPV vaccine for boys and girls for cancer prevention, or Yellow Fever and other necessary travel vaccines to ensure your good health while traveling abroad, Dr. Rana integrates many different skills to help prevent the spread of diseases.
Integrating her Internal Medicine and Pediatric background, Dr. Rana is proficient in managing common and complex adult and pediatric infections. She currently sees patients as an Internist and adult/pediatric inpatient consultations at Richmond University Medical Center.
Dr.Rana graduated from St. George's University School of Medicine in Grenada, WI. She completed her combined Internal Medicine/Pediatrics residency training at Atlantic Health Systems at Overlook Hospital and Morristown Memorial Hospital. While doing her fellowship in Infectious Disease at Pitt County Memorial Hospital, North Carolina, she also received her Masters in Public Health from Brody School of Medicine at East Carolina University.
Dr. Rana has been in practice with Dr. Frank Scafuri since 2009.