Nicole Migliorini, MS, PA-C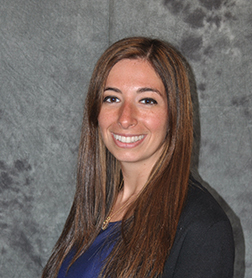 Primary Care
Physician Assistant, Nicole Migliorini was born and raised on Staten Island. She was born at Staten Island University Hospital and grew up in Grasmere her whole life. She attended Holy Rosary grammar school from Pre-K to eighth grade and played basketball for the school her entire time there. She went on to attend St. Peterís High School for Girls on a full academic scholarship and was part of the National Honors Society. She later attended Wagner College where she was a member of various on-campus organizations and completed most of her clinical rotations at SIUH and RUMC. While in school, PA Migliorini worked for Dr. Ralph K. Messo on weekends as one of his medical assistants/ receptionists. She graduated with her masters in science and physician assistant studies in 2011.
After graduating, PA Migliorini worked for Dr. Messo in both his Staten Island and Colts Neck offices for two and a half years. She then went on to work for Dr. Sunah Oh for one year before joining the practice of Dr. Frank Scafuri. PA Migliorini works 5-6 days a week in Dr. Scafuri's south shore office located at 3453 Richmond Avenue. She is currently is one of the preceptors for the Wagner College PA program and enjoys teaching the students.
PA Migliorini resides in Tottenville and is an avid NY Giants fan. In her free time during football season she can be found pacing in front of the TV watching the Giants play alongside her husband AJ. In addition to football she also spends her time traveling and running with her dog, Forest & Maggie. Not to mention she also has a turtle, Franklin.